In this article, we review proposals that you are sure to like: bathroom furniture, door coatings, countertops and walls. Here are all our tips to build your ecological bathroom.

Ecological bathroom cabinets
When choosing your ecological materials for the bathroom, our first advice is to pay special attention to your conventional furniture. Very often this piece of furniture emits strong toxic fumes.
Furniture sometimes contains glues, varnishes, or paints that release volatile organic compounds (VOCs) into the air. These volatile organic compounds are also found in bathroom door liners.

Among these VOCs, we find mainly urea-formaldehyde and formaldehyde (also called formalin). And they are very irritating to the respiratory tract.
In general, to renovate your home in an ecological way, it's better to avoid them. So, for your built-in wardrobes and your prefabricated wardrobes, check the composition and treatment of the materials they are made of.
And to make your job easier, we have already done an extensive investigation!
We have selected only healthy materials. But also, the most durable, so you don't have to renew your ecological bathroom every 5 years.

Wood panels for a VOC-free bathroom
For your built-in wardrobe, you will need wood paneling to make the cabinets. Particle board and plywood panels use glues to maintain hold and strength.
Choose panels with no VOCs or added formaldehyde. You can choose these panels on the archiexpo website.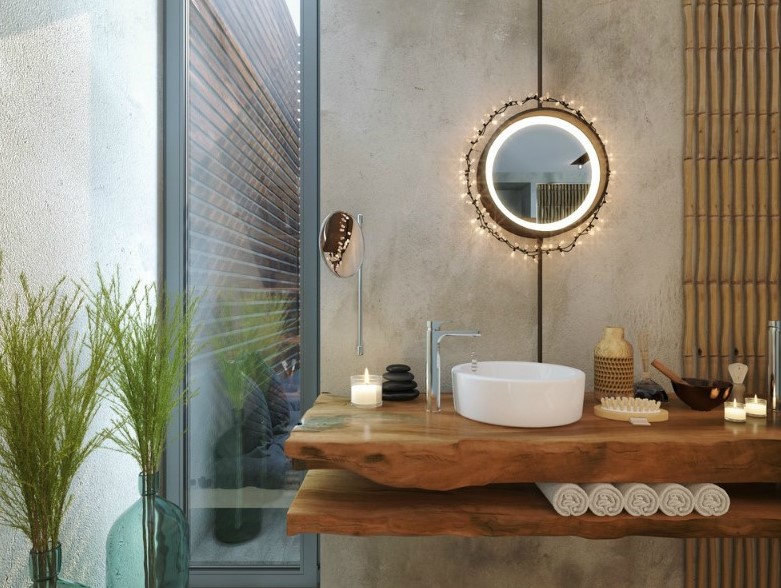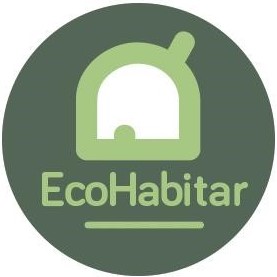 Certifications and products:

CARB II ULEF( (Ultra Low Formaldehyde Emission)
The amount of formaldehyde emitted is equal to or less than 0.05 ppm (parts per million)

CARB NAF ( ( Formaldehyde without addition )
Guaranteed without added formaldehyde

CARB NAUF ( (Without added ureic formaldehyde)
Guaranteed without added urea-formaldehyde

In Spain, choose panels that comply with the European standard E1.

This certification guarantees a formaldehyde emission rate less than or equal to 0.124 mg/m3 of air (milligrams per cubic meter of air). Beyond this threshold, products are classified as E2.
And for the visible part of your wooden furniture, choose VOC-free plywood panels. Ideally, with a local and oiled wood veneer. If you prefer to use a varnish, use water-based ones that emit low amounts of VOCs.
Plywood panels can also be used for doors.